Education
public design support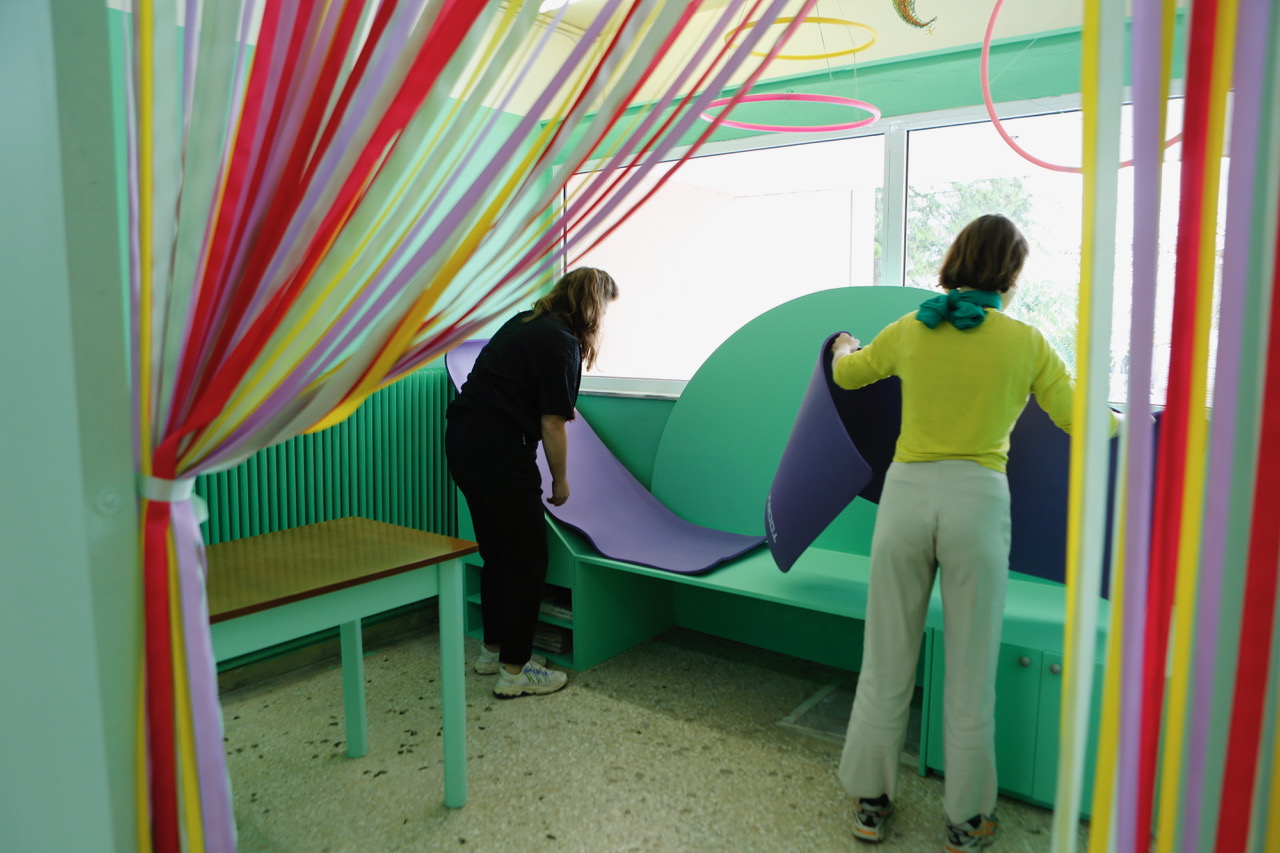 Artist:
Studio Experimentelles Design
Hosted by:
2nd Primary School of Tavros
Following Open Library, which was realized in collaboration with Prof. Valentina Karga and the students from HFBK, this second part of the Tavros community program took the form of an intensive two-week workshop ιn collaboration with Prof. Jesko Fezer, Studio Experimentalles Design and the curator Olga Hatzidaki. During their stay, the students decided, designed and implemented new infrastructures for the 2nd Primary School of Tavros, as a collective effort to improve the daily reality of the school community. The program was complemented by a closed doors workshop at the Goethe Institute in Athens and a bilingual publication, produced by the editorial team of the students which captures the whole experience in Tavros.
SUPPORT ROOM
This room looked like a storage room packed with many things in it and an old dark cupboard. We refurbished it in a colourful way. The apricot-painted part is for children only. Soon there will be books and toys to help you to learn. Turn this room into a cozy place.
1st AID CORNER
Sometimes you can feel sick or get injured in school. Then you can go to the school nurse Dora. To have more privacy there, we rebuilt the first aid corner in the entrance. It now welcomes you to have a rest, to get medical help or to find comfort. When you stretch out on the specially designed couch you can watch the mobile hanging from the ceiling. You can add a drawing or an object to it later.
KIOSK
The school kantina has some very beautiful tiles underneath the counter. Have you seen them? With these colors we could give a new appearance to this important space. The green painted lattices in front of the windows now highlight their small golden plates.
RIVER ISLAND
A plain surface can be boring. Have you seen the two islands on your school court? We want to connect them for you. Therefore we build hills out of earth for you to run, hide and climb. From there you can hop across the blue river that is in between. Now If you want you can rest in groups, on the seats made of rammed clay and tell each other stories.
INSECT HOTELDo you know how important insects are? Without insects there are no flowers, trees, fruits or vegetables. Let's give them a place to live in your school. The sculpture out of wood is hopefully used as a hotel by the insects. By the untypical shape we want to raise attention and create communication. Because many people are more aware of negative effects than they are
STUDIO EXPERIMENTELLES DESIGN: Jesko Fezer , Lara Molenda, Marie-Theres Böhmker, Philip Peters, Jae Ηwa Baek, Lucas Schmidt, Johannes Kuhn, Anna Manlig, Tina Henkel, Ka Young Kim, Marlene Gennet Beer, Pablo Lapettina, Anna-Lena Wünnecke, Elisa Kracht, Olivia Amon, Tatjana Schwab, Irini Schwab, Jacob Scholz, Karolina Kaiser, Hannes von Coler, Liza Anna-Marie Beutler, Anna-Sophia Unterstab, Veronica Andres, Thies Warnke, Theresa Binder, Nick Norman Craven, Greta Lauk, Dennis Nedbal
Special thanks: Apostolos Kasselouris, Andreas Efthymiou, Takis Mersinias, Yorgos Christou, Maria Tseliou, Katerina Karydi, Dora Kasapidi, Gogo Koukoumanou, Spyridoula Papadopoulou, Alexandros Kalathas, Roula Stivachta, Marios Papathanasiou, Dimitris Ramantanoglou