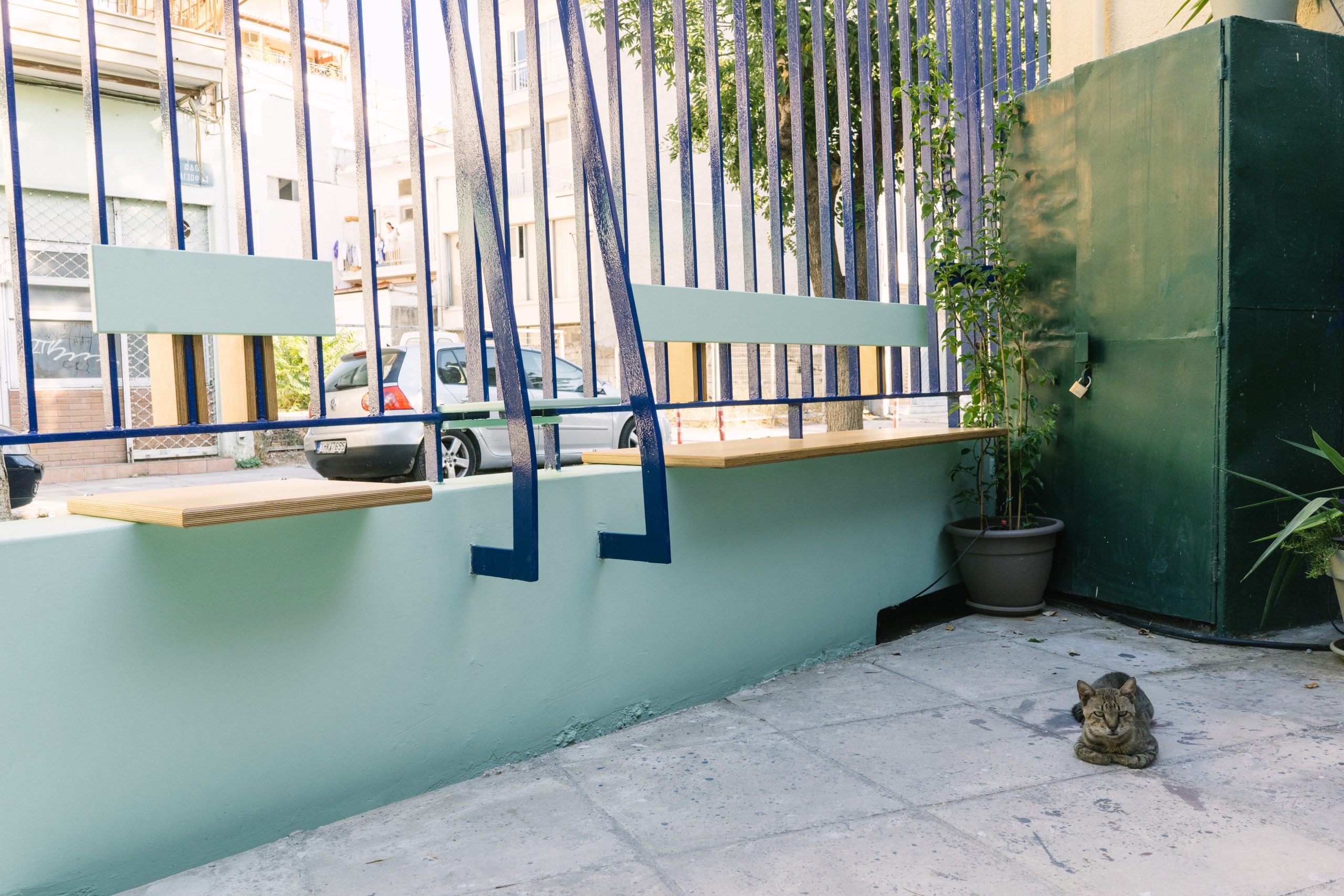 Curated by:
Olga Hatzidaki
Design of the programme:
Hfbk University of Fine Arts Hamburg / Design department: Prof. Valentina Karga, Seda Yıldız, Ronja Soopan, Jeanie Brell, Nele Oetjens, Maria Rincon, Irini Schwab, Josefina Dux, Mu-Heng Tsai
Tavros Municipal Library: Marianna Stivachta
Agricultural University of Athens: Christina Miggirou
Open Library* is a community programme between a group of students from the University of Fine Arts in Hamburg, the Municipal Library of Tavros and the local residents aiming to encourage social interaction, through design. The programme is developed by a diverse group of practitioners with interdisciplinary backgrounds and with a strong community engagement. Key point to their inspiration is the multicultural nature of the neighborhood of Tavros.
Along with addressing particular needs of the library such as designing book and children's furniture indoors and resting infrastructures for the visitors outdoors, the project further aims to foster multivocality within the library's expanded collection of books and its public representation. A selection of books in the most spoken languages in Tavros including Albanian, Urdu and Punjabi has been made by the students and were gathered with much care from various places. A multilingual visual campaign of banners and posters has also been designed, aiming to bring extra focus to the presence of the library in the area.
Extra attention has been given to the outdoor and entering space of the library, which has now a brand new façade. This small public area has been fully revamped and planted in collaboration with the Agricultural University of Athens and is a now a vivid, green and accessible place, where residents can enjoy relaxing moments of reading.
Open Library is aiming to provide a welcoming reading environment that appeals to a broad public audience, creating daily encounters between neighborhood residents.
*The programme was initially imagined as a two-week visit to Tavros in dialogue with professors Valentina Karga and Jesko Fezer and their students from the Design Department of the University of Fine Arts in Hamburg. Due to covid19 and the mobility restrictions applied around the world, the programme was split among the two groups and its first part, Open Library, was realized remotely, over the spring semester of 2021 in collaboration with Valentina Karga's class, the Municipal Library of Tavros and Olga Hatzidaki, curator of the programme. Online classes, numerous e-discussions and site visits to the library by the local stakeholders concluded to a flexible and diversified community programme. The second part of the community prorgramme with Jesko Fezer's class will take place during the autumn semester, either in Tavros or remotely, depending on mobility restrictions.